IIF has pioneered the Business Finance education in India.

IIF has contributed in Human Resource Development through education. It's Alumni are holding senior positions in Government & Industry.

IIF research publications have tremendously contributed to the cause of nation building and quality of education and research.

IIF acts as a major think tank in the country. Its opinions and expert comments often appear on AIR, Television and leading newspapers and magazines in India & International media.

IIF has launched a Project Management Division and Financial & Tax Consultancy division to provide its expert and professional services to the small and large business corporations.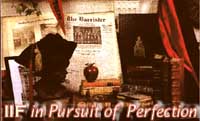 IIF has contributed in developing an extensive course curriculum, Research Base, Conducive Academic Life, Excellent National and International Linkages and Distinguished Team of Faculty.

IIF has contributed in developing new models, theories and policy prescriptions on contemporary economic and financial issues of relevance: Capital budgeting decisions, Working capital management, Investment behaviour, Taxation, Management education, International Finance & Mobilisation of resources.

IIF brings out one of the best Quarterly Journal of Finance - Finance India, ranked at par with top international journals.

IIF has emphasised the need for the new direction to management education through unique teaching methodology, research, publications and self regulation.

IIF has provided academic support to more than 80 institutions or organisations in India and abroad.

IIF has promoted research by instituting Best Doctoral Thesis Award, and a scheme for Emeritus Scientists.

IIF has assisted All India Council for Technical Education (AICTE) Ministry of HRD, Government of India in a number of ways such as :
Developing a report on Fee Fixation for undergraduate Engineering Studies;

Devising strategies to implement suggestions made by Swaminathan committee on mobilisation of additional resources for technical education in the country;

Developing a comprehensive list of books and journals relevant for management institution
IIF acts as a Think Tank in the country. Suggestions are welcomed and implemented by GOI and other agencies. IIF appears in some or the other Media every day.
S.No.
Policy Measure
Remark
Suggested
Implemented
1
Budget Time Change
1st time in India's History since
independence
On
26-May-98
On
2 Feb 1999
2
Money Laundering Bill,
FERA and FEMA
Capital Flight issue, which was
debated and discussed in Parliament
leading to formulation of ML Bill
In
1993, 1994,
1995, 1997
In
1994 and
onwards
3
Kargil Tax not laid on the
citizens of India
Immediately after the war
In
1999
In
1999
4
Kissan Credit-Card Scheme
& Corporate Farming
Financing Agriculture, raised
as an issue 1st time in India's history
In
Dec-98
In
1998 & 1999
5
European Constitution
Research based paper presented
at Int. forums in 1999-2001.
In
1999-2000
In
Jun-04
6
Tax Investment & Reform
schemes observed in 1990s
Based on the research study and
book published in 1989
In
1989
Since
1989
7
Curbing of International
Money Laundering
IMF & World Bank took joint
decision on curbing International
ML, based on our
suggestion at Asia Pacific Banker's
Congress, Philippines on 26 March
2004. ADB & RBI followed in
June 2004 & Nov 2004 resp.
On
26-Mar-04
On
3 April 04,
June 2004,
Nov-04
8
Education Cess
Suggested when Dr. Manmohan Singh
was the Finance Minister in 1993
In
1993
In
2004
9
India likely to be amongst
top 3 World Economies
Research based forecast was made
in 1994 at International live lecture
at Univ. of Maryland, USA; in
2000 at Kurkshetra Univ. & others.
Hon'ble President APJ Abdul Kalam
wrote in his book "India 2020"
In
1994 and 2000
In
2002
10
GDP Growth Rate at 8%
for 2005
Our Chairman forecasted GDP
Growth of 8% in 2005 & inflation
between 3-4%, which has come true.
This was forecasted at Public Lecture
on Analysis of Union Budget 2005.
On
5-Mar
2005
In
5-Nov