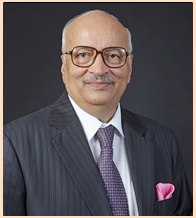 H.E. Dr. Balmiki Prasad Singh, IAS

14th Governor of Sikkim, INDIA;
Home Secretary (1995-97), Government of India, INDIA;
Executive Director and Ambassador (1999-2000), The World Bank, USA;
Honorary Professor, Indian Institute of Finance
Researcher, Thinker, Statesman, Principal Architect of Bahudha Approach & Author



Balmiki Prasad Singh
is a distinguished scholar, thinker and public servant.
B.P. Singh was born on January 1, 1942 in Bihar. He was educated in a village school and subsequently at the Universities of Patna and Oxford. He passed his M.A. in Political Science from Patna University, Patna, standing first in first class
with record marks and several gold medals.
He became a lecturer in Political Science in Patna University at the
age of nineteen.
B.P. Singh was appointed to the Indian Administrative Service (IAS) in 1964. He served as an IAS officer for 38 years between 1964 and 2002. He has since been the recipient of several fellowships and awards. The fellowships include Jawaharlal Nehru Fellowship (1982-84), Queen Elizabeth Fellowship (1989-90); and Mahatma Gandhi National Fellowship (2007-08). B.P Singh was awarded Governor of Assam Gold Medal in 1981 for outstanding service in Assam; Gulzarilal Nanda Award for outstanding public service in India from the President of India in 1998; Man of Letters Award from His Holiness the Dalai Lama in 2003; and Paul H. Appleby Award by Vice President of India for outstanding services in the field of public administration in India in 2017; and Goggle recognised him as Semantic Scholar of the World in 2021 (Semantic Scholar is an artificial-intelligence backed search engine for academic publications developed at the Allen Institute for AI).
As an administrator over the past five decades, B.P. Singh has held important positions within the state of
Assam
as well as in the Government of India and also in international organisation. In Assam, he was Sub Divisional Officer, North Lakhimpur (1966-68), Deputy Commissioner, Tezpur (1971-72) and later Deputy Commissioner Kamrup, Guwahati 1973-75). He was Joint Secretary of all Departments under Chief Secretary (1968-70). He was also recalled to serve the state in 1980 while he was undergoing training at National Defence College in the wake of agitation over 'foreign nationals' issue'. On return from deputation from Government of India, he became Agriculture Production Commissioner, Govt of Assam (1991-93). At the Centre, he was Deputy Secretary and Director, Ministry of Defence (1975-80), Joint Secretary, Department of Mines, Ministry of Steel and Mines (1984-89), Additional Secretary, Ministry of Environment and Forests (1993-95), Culture Secretary (1995-97) and Home Secretary (1997-99) in Government of India. He was Executive Director and Ambassador at the World Bank (1999-2002) at Washington D C and later Governor of Sikkim (2008-13).
As
Culture Secretary
, Government of India B.P. Singh organized the Golden Jubilee Celebrations of India's Independence at the global level; and set-up National Culture Fund (NCF) to promote public-private partnership in conservation of national heritage sites and monuments. NCF is operational in India and has been mutatis mutandis adopted by Bhutan and Mexico while some other countries have incorporated some of its features in their schemes. B.P. Singh also devised government scheme to support through endowments and staff entitlements guru-shishya parampara schools and Buddhist and Gandhian organizations in the country. These schemes have performed very well.
As
Union Home Secretary
B.P. Singh devised a fresh formula for reorganization of States in terms of Articles 2 and 3 of the Constitution of India by obtaining prior consent of the Legislatures of States who were to be bifurcated. This was accepted by the Cabinet and approved by Parliament. This formed the basis of creation of 3 States of Chattisgarh, Uttarakhand and Jharkhand. He also set up a National Coordination Centre for dealing with naxal problem.
As an
international civil servant,
B.P. Singh served as
Executive Director and Ambassador at the World Bank
during 1999-2002 representing India, Bhutan, Bangladesh and Sri Lanka and was one of the founder members of the Development Gateway Foundation (DGF) and member, Global Environment Facility (GEF), Washington D.C. His role was formally hailed by the then President of the World Bank by calling him 'ambassador extraordinaire' of the world's poor.
B.P. Singh was
Governor of Sikkim
during 2008-13. His five-year term as Governor of Sikkim was extremely successful. He contributed immensely to the processes of acceleration of pace of harmony between democracy, culture and administration. This got duly reflected in educational development (including its quality); comprehensive health care facilities; regeneration of forest resources; and in giving dignity and a sense of belongingness to citizens. His positive interventions in critical situations as head of the strategic State of Sikkim.
As an intellectual
with avid interest in academics, B.P. Singh held a variety of honorary academic and governmental assignments including (i) Chancellor of the Central University of Tibetan Studies, Sarnath for seven years; (ii) Chief Editor of the South Asia Series on "Perspectives on Economics, Technology and Governance" of Oxford University Press, New York for four years; (iii) President, Namgyal Institute of Tibetology for five years; (iv) Chancellor, Sikkim Manipal University for five years.; and (v) Chairman, National Commission for Economically Backward Classes set up by Govt. of India in the rank of Cabinet Minister (2003-04).
B.P. Singh had consistently engaged himself with important administrative assignments but even then, he reflected upon promotion of peace and development in the North East and also for development of Science, Ecology and Culture in India and the World. His major books are:
(i) The Problem of Change: A study of North-East India (OUP: Ist published in 1987);

(ii) India's Culture: The State, the Arts and Beyond (OUP: Ist published in 1998);

(iii) Bahudha and the Post-9/11 World (OUP: Ist published in 2008);

(iv) The 21st Century: Geo-politics, Democracy and Peace (Routledge: Ist published in 2017).

Book for Students: Our India (NCERT- 2011) and Hamara Bharatvarsha in Hindi.

Editorial work: The Millennium Book on New Delhi, (OUP -2001), Shri B. P Singh is the Chief Editor.
B.P. Singh is well-known as author of the
Bahudha approach
, which outlines the path towards a harmonious world as against the
clash of civilizations.
B.P. Singh is an eminent
public speaker
in English and Hindi and has delivered memorial lectures and speeches at national and global levels. Some of his memorial lectures include Sardar Patel Memorial Lecture for the year 1999; and Dr. Rajendra Prasad Memorial Lecture for the year 2009 (both organized by the Ministry of Information and Broadcasting, Govt. of India). He delivered the Maulana Azad Memorial Lecture for the year 2011 organized by Indian Council for Cultural Relations (ICCR). He gave a public oration at Belur Math on Swami Vivekananda in 2014 and also wrote for 150th birthday celebration volume dedicated to him which was brought out by the Ramakrishna Mission Institute. B.P. Singh presided over the four-day Global Buddhist Congregation in November 2011 in New Delhi attended by around 1,000 Buddhist scholars, thinkers and followers from over 30 countries to mark the 2600th year of Buddha's Enlightenment. His Presidential Address was subsequently printed and circulated within India and abroad.
B.P Singh is currently working on promotion of Peace, Science, Culture and Democracy through his association with several organisations and by writings and speeches.
B.P. Singh lives in New Delhi and could be contacted at
bpsias@gmail.com
. (Mobile No. 919810105981 and landline 011-43220002).
***********
Articles and Lectures of Shri Balmiki Prasad Singh (Select Few)
Memorial Lectures
Jawaharlal Nehru and Tribal Centenary Volume
Sardar Patel Memorial Lecture
Dr. Rajendra Prasad Memorial Lecture - Hamara Bharat
Maulana Azad Memorial Lecture
The First Ramdhari Singh Dinkar Memorial Lecture
Dr. Sri Krishna Sinha Memorial Lecture
The Message Of Kalinga And The Bahudhā Approach Dr Harekrushna Mahatab Memorial Lecture
Are We on A Clief? Nature, Science and Wisdom
Peace in the 21st Century
Centenary Celebrations of Patna University: Inaugural Lecture on Contribution of Patna University to Indian Freedom Movement at Magadh Mahila College on 11 November 2017
Speaks on Bhutan
India and its Grammar of Democratic Governance
India at 70: Achievements, Challenges and Possibilities
Peace and the Bahudha Approach
Message of Kalinga, Significance of Mahatma Gandhi and the Bahudha Approach
Towards Building an Ecological Civilisation
Dr B.R. Ambedkar's Philosophy of Constitutionalism as an Instrument of Justice, Social, Economic and Political
Freebies and Good Governance
Swami Vivekananda A Monk of Humanity.